This page may contain affiliate links that allow us to make a small commission from qualifying purchases (at no extra cost to yourself). We appreciate your support.
A closed terrarium is a wonderful and fun way to bring the outdoors inside if you are looking for a fun project. In a contained area, you can build a mini ecosystem that will come alive before your eyes. So, if you are embarking on this journey of building a closed terrarium, what soil would be best for it?
A closed terrarium can handle many soil types all of which depend on what kind of living plants that will be placed inside the closed terrarium. Closed terrariums can have a variety of soil options from garden potting soil, peat moss, coir, and up to gravel or sand.
Keep reading on to learn a little more about what types of soil work best for your closed terrarium and how to match the best soil to the plants you are putting in the terrarium.
What Soil Do I Use For A Closed Terrarium?
A terrarium can house many types of plants, rocks, and other living organisms. This means that the type of soil you use can vary depending on what you decide to put in your terrarium.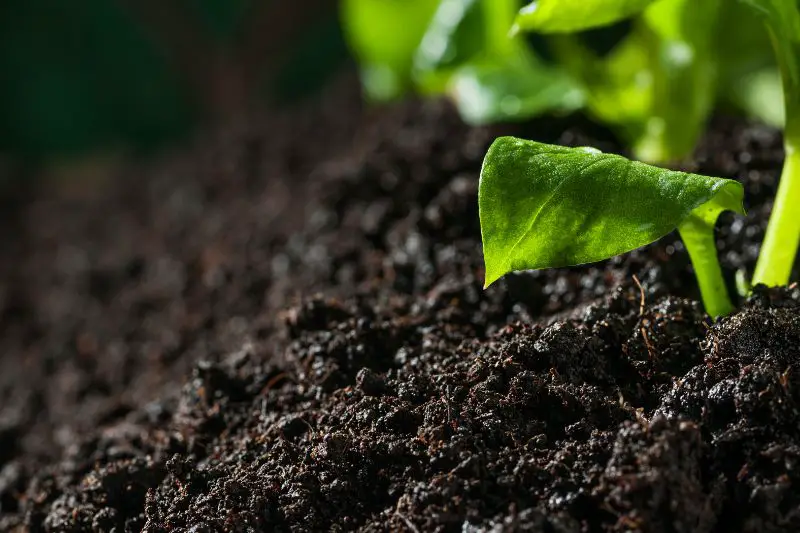 For instance, you could have a succulent in your terrarium and this would require a special mixture of sand and soil for the succulent to enjoy its new home in your closed terrarium.
The list below details the types of material coupled with soil that would be acceptable to use in your closed terrarium.
House plant soil: This can be found at any garden store, shopping center, hardware store, or even on Amazon.
Sand: is perfect for irrigation and mostly recommended for succulents. You can get it on Amazon for under $10.
Peat Moss: can be used for any version of a terrarium
Gravel: this is best for succulents as it will allow for water drainage
Coir: another staple in the basic soil that can be used in a terrarium
Generally, what type of soil and material you use in your closed terrarium will depend on what you are putting in your terrarium. The requirements will vary and you will have to adjust your soil and material to suit your plants.
How Do the Plants In My Terrarium Affect the Soil I Use?
When setting up a closed terrarium, you will have a variety of options when it comes to plants that you can put into it. You have likely seen that there could also be closed terrariums with no plants inside!
Closed terrariums are whatever you want them to be and often will lead to some creative ways of placing plants or non-plants in it.
Some elect to not put any plants but put a variety of scenery in instead which in turn can alter the type of soil needed for your closed terrarium.
The next sections below will detail the types of soil used depending on what is going to be living in your closed terrarium.
For Terrariums with Plants Being Put Inside
If you are putting basic plants into your closed terrarium, you can absolutely use house potting soil as your foundation. There is no need for drainage and the house potting soil can be found anywhere!
House potting soil is also a great way to start because it will offer a more sterile foundation where there are no microorganisms going into your closed terrarium that could cause havoc on your precious creation.
For Terrariums with Succulents Being Put Inside
If you decide to put succulents into your closed terrarium, you will have to add in a bit of sand or gravel or something porus for drainage as you can't have a pool of water near the base of the succulent.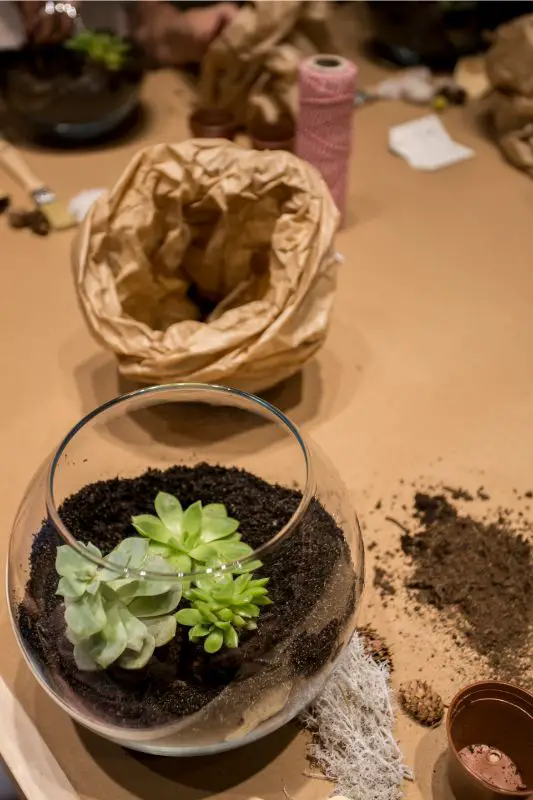 There are resources on the web on how to create your own homemade succulent soil, if you are feeling in the DIY mood. See another of my articles for a few homemade substrate recipes for different environments.
This type of homemade soil recipe contains potting soil, sand, and pumice. All of which can be found at any garden store, hardware store and sometimes even a grocery store.
An important part of having a succulent in a closed terrarium is the drainage that is required. Drainage will allow the roots of the succulent to enjoy the water without the top portion becoming bogged down in.
For Terrariums With Materials Other Than Plants Or Succulents Inside
If you are only using moss, rocks and other materials that are not plants, you can use other things to create a soil base. Due to these items not having roots, you will likely want to have a play with what works best for your closed terrarium vision.
Materials like garden soil ( that will contain a mini ecosystem!) regular soil, anything that has nitrate in it (think of the banana mixture from the earlier paragraphs) and anything else that will give your non-plant closed terrarium the necessary fuel to keep it alive.
Key Tips on How To Get The Perfect Soil For A Closed Terrarium
Although there is a bunch of great information in the paragraphs you just read, there are also a few key tips to follow and that will allow you to get the best possible knowledge of how to make a closed terrarium and get started with building its soil base quickly.
Below you will find five key tips to get started with your closed terrarium soil.
5 Key Tips On Closed Terrarium Soil
1.       Use potting soil that is store bought if you are looking for a sterile option for your terrarium.
2.       Drainage is not always necessary and will depend on what plants you are using.
3.       You can elect to mix in rock or sand with your potting soil, it will not hurt anything!
4.       Don't over water your closed terrarium, it will create its own rain cycle.
5.       You can fertilize your soil, but be mindful of the components and mixture of your fertilizer as it could damage the soil.
Happy Terrarium Building!
Now armed with the best knowledge and key tips on the web, you can happily start your closed terrarium building. Just follow the tips above and you will have a beautiful, self-sustaining closed terrarium in no time!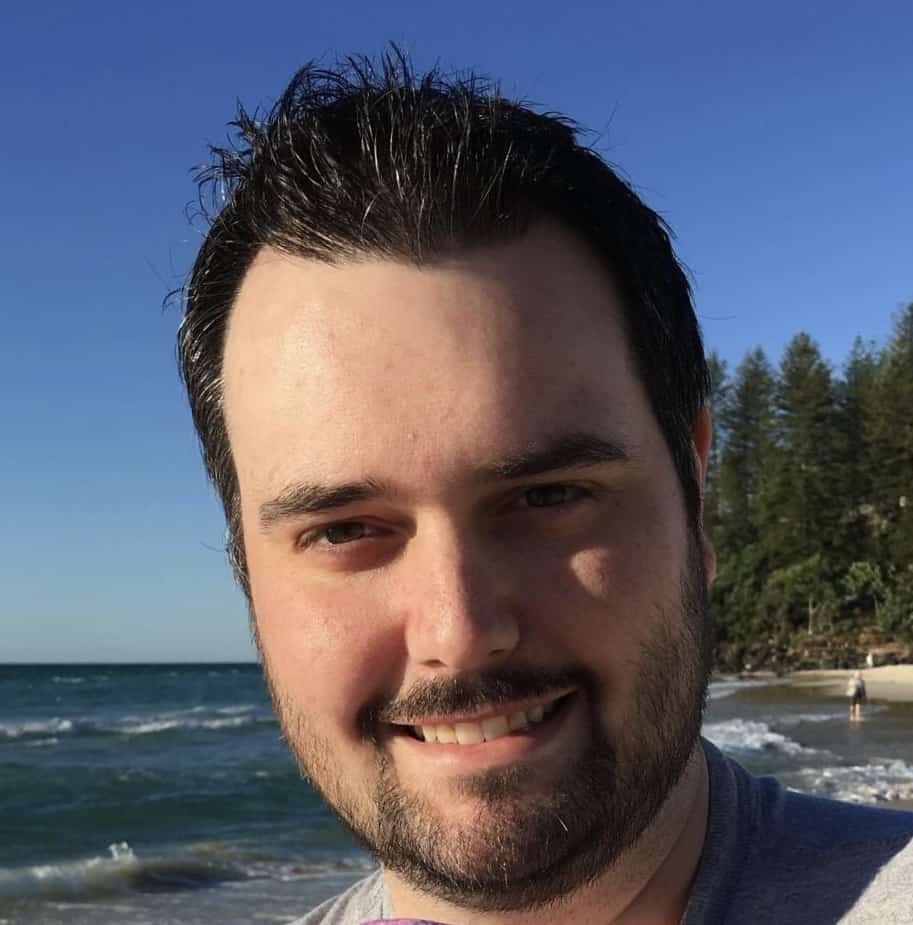 Meet Brad, the creator behind Vivarium Vibes, where his deep connection with nature and animals truly comes to life.