This page may contain affiliate links that allow us to make a small commission from qualifying purchases (at no extra cost to yourself). We appreciate your support.
Fairy gardens are a fun activity that you can do with your kids that inspires creativity and imagination. Finding a theme or story that your children are excited about will keep the excitement going and keep them involved. Below is a list of ideas to help get your creative juices flowing and alleviate some of the stress if you happen to be drawing a blank and lack inspiration.
Pirate's Cove
A Christmas Story
Broken Pot Fairy Garden
Fairy Lights
Gnome Garden
Jurassic Park
A Day at The Beach
Bird House Garden
Old MacDonald Had A Farm
Teacup Fairy Garden
Tree Trunk Garden
Medieval Fantasy
Indoor Fairy Terrarium
Heritage/Culture Inspired Garden
Spooky Garden
When deciding on what type of fairy garden you would like to create, be sure to involve your children in the process. Think about your children's favorite colors, characters, animals, holidays, hobbies, shows they like to watch and favorite outdoor activities.
Before you get started building your dream fairy garden, be sure to see my article about 12 must-have supplies you will need to get started!
All these things can lead to inspiration for your next great idea. I hope that you can find some inspiration from the ideas I have shared that will lead to great memories with your children!
1. Pirate's Cove
Arr, Matey! A pirate garden is filled with fun and mystery as you look for buried treasure and sail the seven seas. Creating the perfect pirate's cove is only limited by your imagination.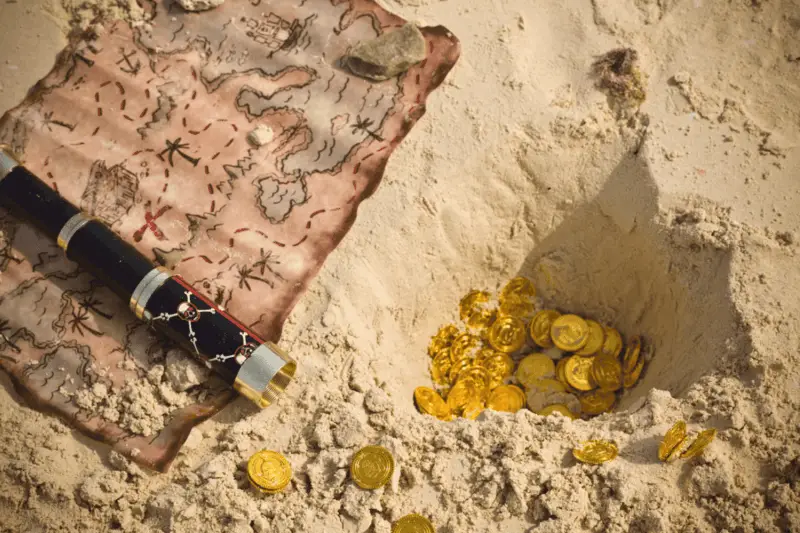 Think about the type of landscape that you want. Small colored pebbles or stones is a great way to create contrast between your ocean and shore scenes. Create a jungle with small plants and succulents or a cave with larger rocks or wood.
Lastly, no pirate garden can be complete without some props or characters. Here are a few ideas to get started:
Pirate Ship
Pirate Captain & Crew
Mermaid
Parrot
Treasure Chest
Treasure (Gold Coins, Jewels etc.)
Seashells
Skeleton
Treasure Map
Giant Squid
2. A Christmas Story
Christmas is a magical time of year no matter where you may live. Some places you can always rely on a white Christmas, snuggled up by the fire drinking hot chocolate. In other places, Christmas involves heading down to the beach on a hot summer's day.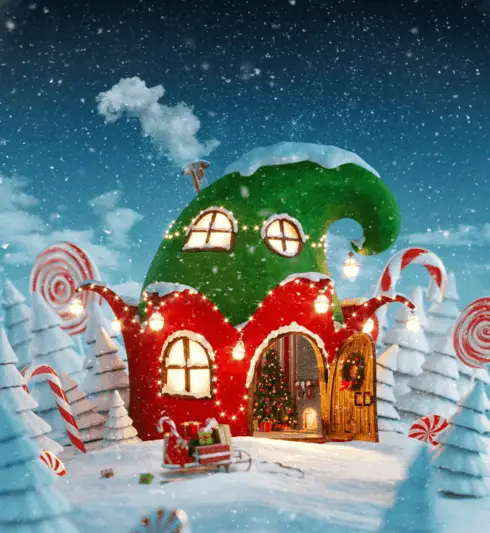 For a winter Christmas garden, you can use fake snow or cotton balls and white pebbles to give the appearance of snow. For a summer Christmas garden, you can create a beach scene with your favorite mini palm trees.
You can also add some Christmas lights which will bring your garden to life at night.
Here are some ideas for Christmas props and characters to have in your garden:
Traditional Santa Clause
Beach Santa Clause (if creating a summer garden)
Mrs. Clause
Reindeer
Christmas trees
Mistletoe
Bells
Candy canes
Presents
A nativity scene
Gingerbread man
Santa's sleigh
A house with a chimney
Cookies
Wreath
Elves
Snow Man
Ribbon
Pine trees
Penguins
Characters from your favorite Christmas movies
Christmas lights
North Pole Sign
3. Broken Pot Fairy Garden
Broken pot fairy gardens are quite common. You can buy broken pots specifically made for fairy gardens, or if you happen to have a broken pot lying around, you can make one yourself. Most traditional broken pot gardens have one side of the pot broken off which they then use to create a layered landscape where the open space is.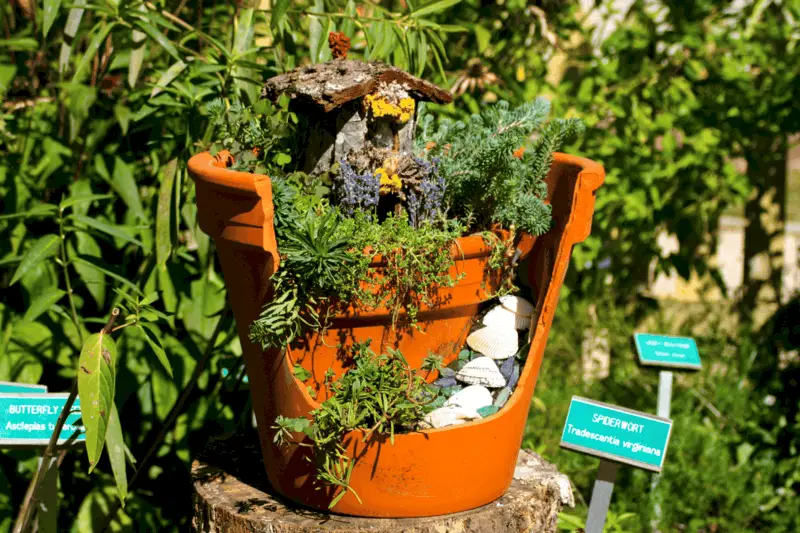 Succulents, shrubbery, and other small plants are then used through out the pot to create the appearance that plant life is growing throughout. A house or other type of prop is often placed on the top of the pot with pebbles or soil in the layered sections.
These suggestions would make great additions to your broken pot garden:
Succulents and other greenery
Miniature house
Some fairies or other characters
A park bench
Toadstools
Flowers
Steps made from rocks or wood
Tree stumps
Mini Lantern
Picket fence (Popsicle sticks and string are a great option)
Pebbles
A small bridge
4. Fairy Lights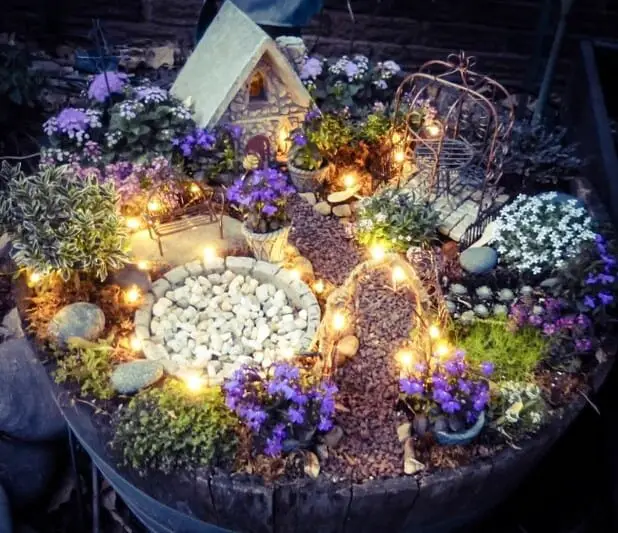 Fairy lights can really liven up your fairy garden once the sun goes down and nighttime sets. They are a great way to create a special ambience whether your garden is located indoors or outdoors.
Solar powered string lights are a good choice as you don't have to worry about batteries or finding an electrical outlet. They range in a variety of colors and styles to suit whatever theme you have chosen for your garden.
5. Gnome Garden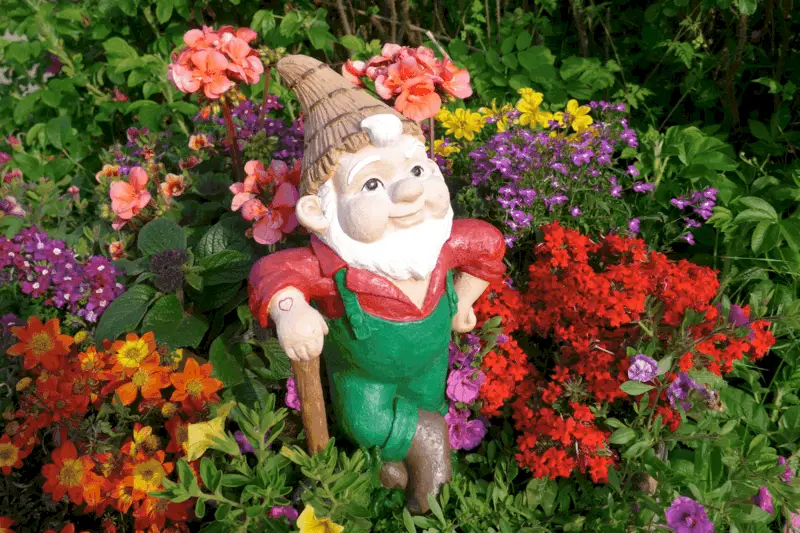 What is more iconic then having garden gnomes in your garden? Creating a miniature gnome fairy garden of course! Complete with gnome figurines, toadstools, and teapot houses.
There is a lot of room for creativity when designing your gnome garden. You could even try and incorporate similar fantasies such as the seven dwarfs from Snow White or create a miniature Shire filled with Hobbits.
6. Jurassic Park
Whether you create an actual dinosaur theme park or a miniature world where dinosaurs roam free, your children will have fun regardless. It provides a great opportunity to learn more about the different types of dinosaurs your children love and watch their excitement as they create a land before time.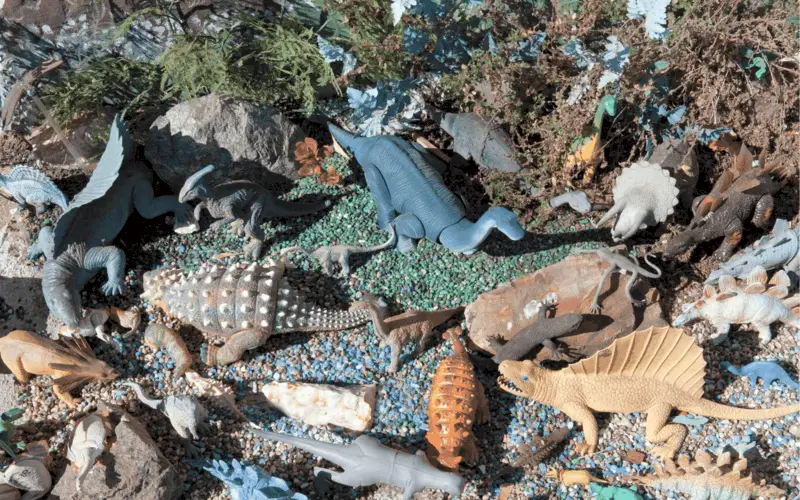 This style of fairy garden does best with lots of plants to create a jungle landscape. Below are some great ideas for different types of props to include in your garden:
Dinosaurs of all types and sizes
Volcano
Lava (red pebbles work well)
Dinosaur bones
Lots of plants and greenery
Fencing (if building a dinosaur theme park)
Danger signs
Dinosaur egg
Dinosaur Footprints
River or watering hole
7. A Day at The Beach
There's nothing I love more than sitting on the warm sand listening to the ocean waves. Well, now you can bring that same feeling to your back yard with a beach themed fairy garden.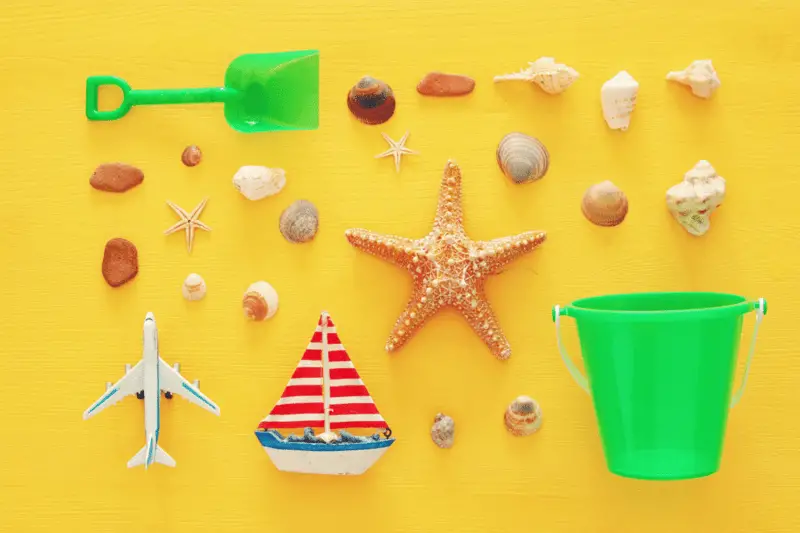 Different shades of blue pebbles or gems create a great ocean landscape. Sand is the obvious choice for your beach foundation as its affordable and brings realism to your beach garden.
Here are some great suggestions to include in your beach themed garden:
Seashells
Miniature shark
Surfboard
Sun umbrella
Beach chair
Toy Seagulls
Toy van
Star fish
Pelican
Kayak
Boat
Miniature finishing gear
Palm trees
Turtles
Jet ski
Volleyball
Toy people that are enjoying the beach
Lifeguards
Frisbee/football
Mermaid
Beach ball
Towel
Crabs
8. Bird House Garden
Kids just love bird house fairy gardens as they are able to see real birds come and enjoy their creation. Wrens, bluebirds, and sparrows just love building nests within birdhouses which are the perfect size for a miniature garden.
Center the landscape of your garden around the birdhouse with a trail of pebbles leading up to the door and some flowers along the perimeter. Just think about your own house with a pathway, patio bench, water fountain, bushes, tire swing, or anything else that makes your house unique.
Add some snails and a welcome home sign and your new bird friends will never want to leave their new home.
9. Old MacDonald Had A Farm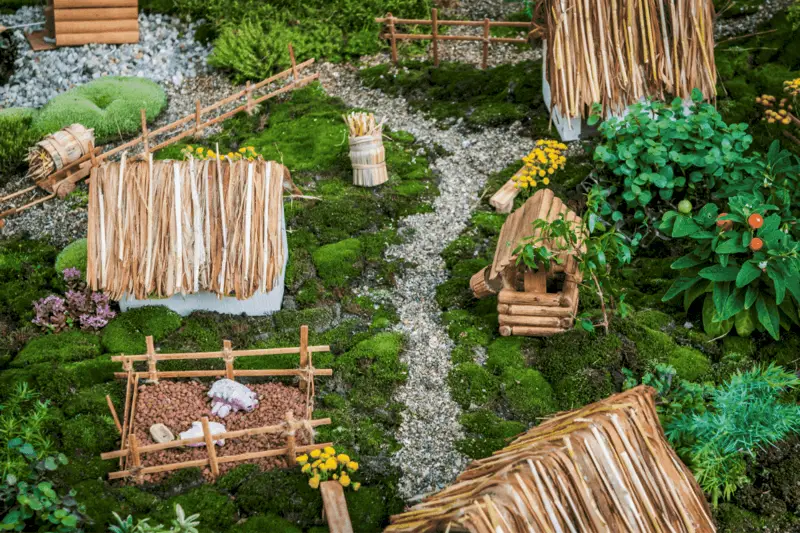 Kids love farm animals and love trucks and tractors. What better way to include everything you love about farming then to make your very own fairy farm! This style of fairy garden has the flexibility to be as big or small as would like with very little modifications.
Here are some great ideas to include in your very own fairy farm:
Barn and Silo
Tractor/Truck
Farm animals (cow, chickens, pigs, sheep, dogs, ducks etc.)
Scarecrow
Fake produce (corn, wheat, pumpkins, cabbages etc.)
Windmill
Fairy Farmer and his wife
Hay bales
Picket fence
Mailbox
10. Teacup Fairy Garden
Teacup gardens are great because they are small and portable. To create a teacup garden, you simply fill it with soil or pebbles, and add your plants of choice and other trinkets. Common additions are toadstools, succulents, moss, miniature ladder, toothpick bench, fairy characters, tiny animals.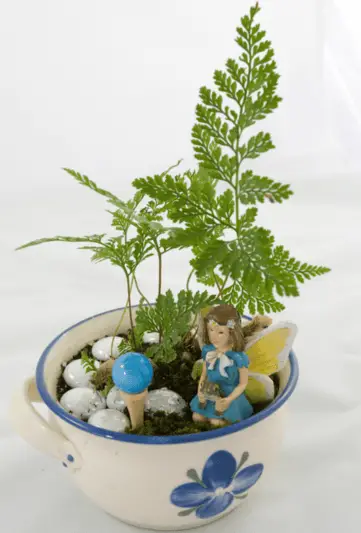 11. Tree Trunk Garden
Tree trunk fairy gardens can be created in a couple of different ways. The simplest method is to find your favorite tree and create your garden at the base. Placing little doors and windows on the tree can create the appearance that your tree is now a unique little house.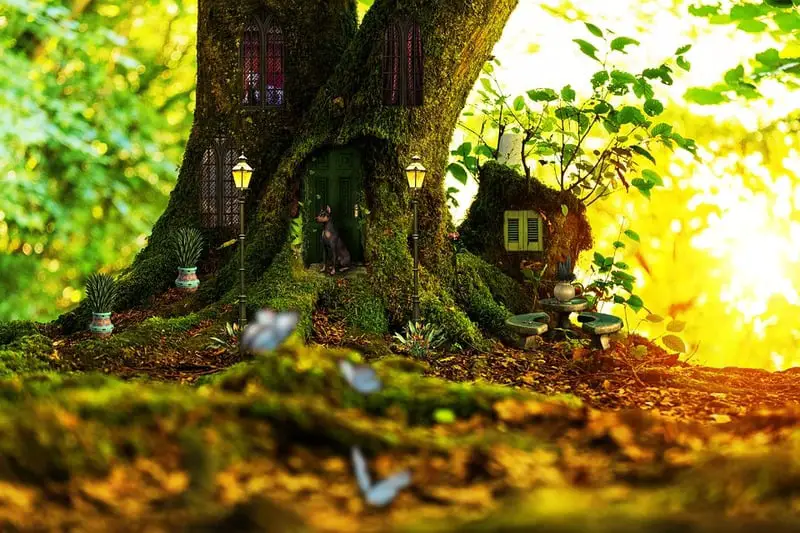 You can then surround the base of the tree with greenery, and other trinkets like a table and chairs, steppingstones, water fountain, flowers, ladders, toadstools and of course some fairies.
A more intricate method is to use a tree stump. You can carve a hole in the stump and add indoor furniture, or you can leave the stump as is, and build your garden around it.
12. Medieval Fantasy
Kids love fantasy as it feeds into their imagination and provides an endless source of entertainment. The possibilities are endless when it comes to creating your own medieval fairy garden.
One unique idea is to use water within your garden, by creating a moat around your castle or a small river. I hope that the below suggestions will help to inspire your imagination to create your own fantasy world filled with medieval legends your kids will love.
Castle
Moat or River
Dragons
Wizards
Sword in the stone
Draw bridge
Characters (fairies, knights, king/queen, trolls, goblins)
Horses and unicorns
Vines and moss
Rapunzel in her tower
Jack and the beanstalk
Giants
Robin hood and his merry men
Jester
13. Indoor Fairy Terrarium
Why not combine two of my favorite things? Fairy gardens and terrariums! Indoor fairy gardens are a great addition to any counter or bookshelf. They require little to no maintenance and can be enjoyed all year round.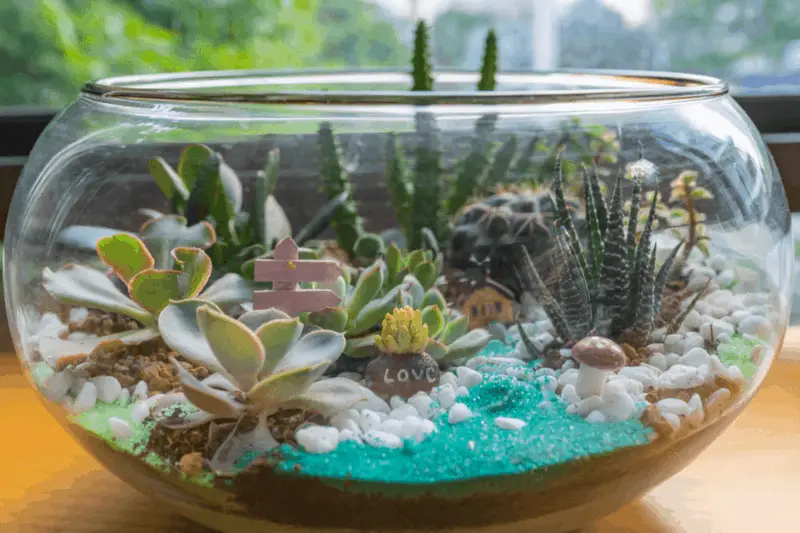 Simply use an open cased terrarium container and add your soil/pebbles, plants, and fairy trinkets. You can keep it as simple or complex as you like. Some ideas for open containers are using a vintage lantern, creating a teacup garden as mentioned earlier, a fish tank, an old suitcase, a mason jar, or a traditional terrarium glass bowl.
14. Heritage/Culture Inspired Garden
Our heritage and culture are part of who we are and what better way to involve your kids in their own heritage then by incorporating it into a fairy garden. Culturally inspired gardens are also great for anyone that wishes to include other cultures within their home.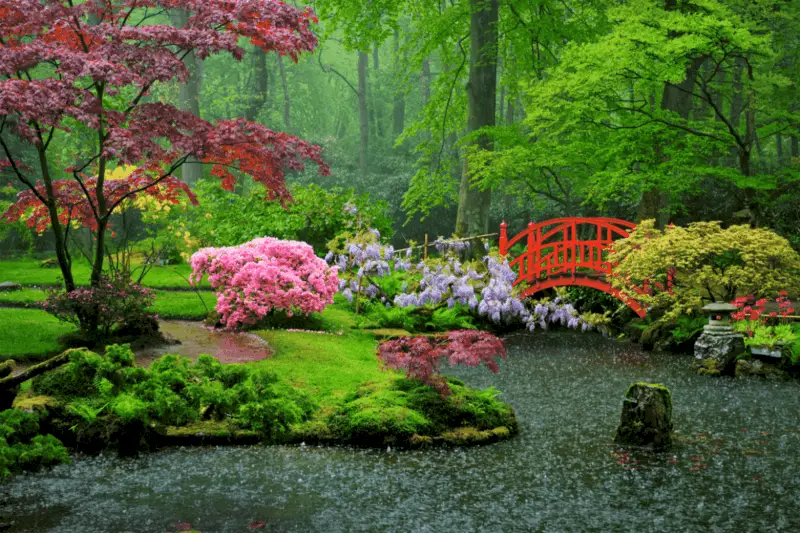 If you happen to be wondering which culture you would like to include within your own home, here are a few ideas to get you thinking:
Japanese garden centered around a bonsai tree
Polynesian/Pacific Islands garden
Indian garden
Australian garden
Chinese garden
Incorporating Religion
African Safari garden
North American garden
South American garden (Mayan/Aztec, Latin America, Mexican, Brazilian)
European garden (such a variety of cultures throughout Europe)
There are so many amazing cultures throughout the world. The above list is by no means all inclusive and is simply meant to act as a starting point to help inspire ideation.
15. Spooky Garden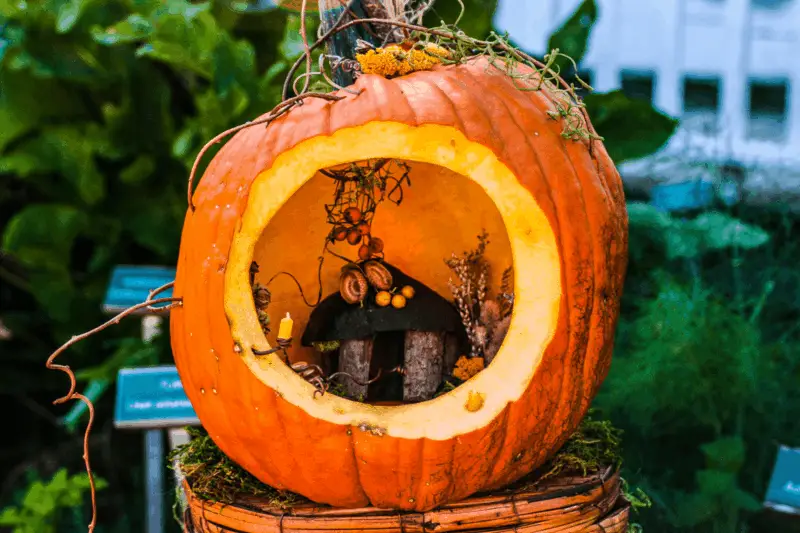 Every child loves Halloween and the mountains of candy that often comes with it. Although a spooky fairy garden may not include candy, there are plenty of fun, scary ideas that will keep the family entertained year-round.
Hansel and Gretel theme
Graveyard theme (gravestones, skeletons, ghosts)
Pumpkins
Weeds
Stone path
Crooked fence
Old lantern
Fairy lights
Witches
Ghosts
Skeletons
Zombies
Spiders
Trick or treat sign
Fall/Autumn leaves
Fake spiders web
Final Thoughts
There is such a wide variety of options to choose from when creating a fairy garden but the key thing to remember is to make sure your children are involved in the process. Kids have a bottomless supply of imagination and creativity. By working together, you will be able to take those thoughts and mold them into a garden that can be enjoyed by the whole family.
I hope this article has helped to spark some great ideas that will lead to great memories and amazon fairy gardens!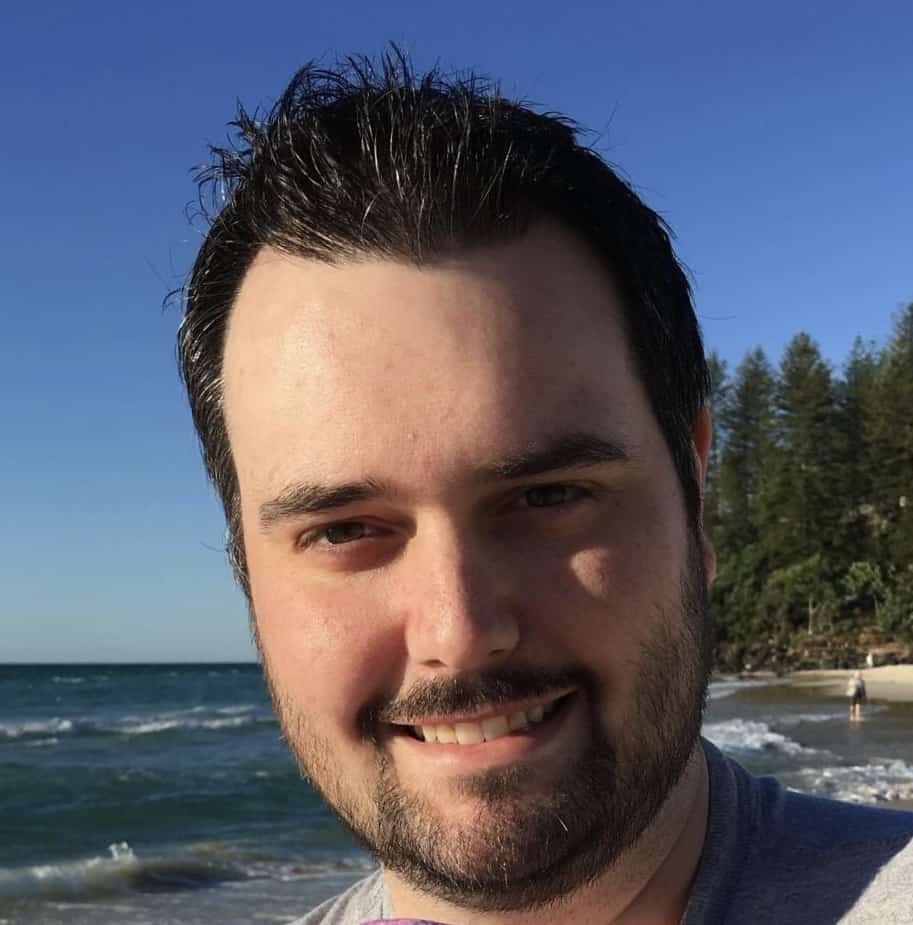 Meet Brad, the creator behind Vivarium Vibes, where his deep connection with nature and animals truly comes to life.